MDPE Pipes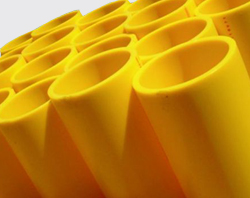 MDPE (GAS PIPE) pipes as per IS:14885 standards specifications, manufactured in state-of-the-art plant with latest manufacturing technology under strict quality control.

Due to inherent characteristics of MDPE (GAS PIPE) such as corrosion, resistance, flexibility, crack resistance and toughness, MDPE (GAS PIPE) pipes are used widely in the gas distribution system all over the world, including India. Khyati Polymers has developed and established manufacturing and testing facilities for producing quality MDPE (GAS PIPE) pipes for gas applications.
Salient Features
Flexibility : Easy to handle & coil.
Corrosion resistance : Tough and highly reliable in aggressive soils.
Fusion joined : High integrity and reliability.
Light weight : Weighs lesser as compared to the metallic pipes.
Crack resistance : Excellent resistance to subsidence, traffic vibrations, point leading and marshy ground.
Homogenous : Joints are free from leaks
UV stability : Adequate resistance to UV rays
Installation : Low installation cost.
Earth quack resistance
Application of MDPE PIPE
Water Supply System
MDPE piping systems are the preferred means for transportation and distribution of natural gas worldwide.
MDPE PIPE
Size range from 20mm to 250mm OD.
Pressure class from SDR-11 and SDR-17.6.
PE Grades PE-80, PE-100.
As per IS:14885.