PLB Duct Pipes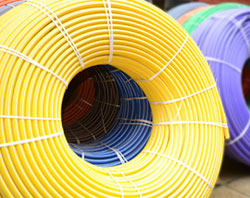 We manufactures permanently lubricated HPDE pipe with the superior grade of High-Density Polyethylene materials.

Apart from the normal HDPE pipes, we have developed permanently lubricated HDPE Telecom Ducts. We use imported materials from internationally reputed ISO-9002 companies, manufacturing a special lubricated compound for production of HDPE duct pipes conveying optical fiber cables with extremely low friction.
Salient Features
Impact Resistance.
Crush Resistance.
Environment Stress Crack Resistance.
Coefficient of Friction.
Temperature Resistance and Range of product use.
Ultraviolet (UV) protection.
Application
PLB Pipe suitable for installation in the field dirt trenches, under sidewalks, roads, within communication networks, between communication centers and between cities. They can also be used in branch networks between cells, distribution cabinets, poles, in walls and within subterranean networks of homes, allowing the insertion of communication cables-optical or copper, as well as TV/cable aluminum coaxial cables. Cables can be inserted in through the pipe by blowing, with an internal air-pressure up to eight bars.